Recommended Video About Tactical Shotguns and Self-Defense
There are a lot of different videos about tactical shotguns, I want to recommend you this one: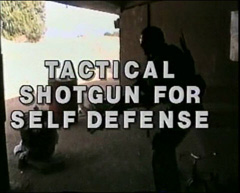 1. Tactical Shotgun for Self Defense by L.O.T.I. Group (with Gunsite Training Center and Sand Bee).
Contents:
Introduction, useful general information about shotguns.
Information about different tactical upgrades and accessories for a shotgun.
Gun Safety Information
How to Load a Shotgun
Information About Shotgun Barrel, Chokes and Ammunition (Buck, Vang Comp, Cyl.)
Readiness Positions (Low Ready, Indoor Ready etc.)
Shooting Positions (Kneeling, Prone etc.)
Shotgun Tactics, Situations (House Clearance)
Ammunition, Loads, Pattern, Sights, Ghost Rings
This video is really good and will be useful for all shotgun owners, it covers almost anything you need to know about your shotgun. Also, you will find useful information on building of a tactical shotgun, upgrades, barrels, tactics and many other things.
As I know it was released in 2001 but it is still one of the best videos you can find.