Shotgunner
Posts: 23
Joined: Sun Aug 11, 2013 3:35 pm
Friends dont let friends buy mossberg
---
I have an XD .45 GAP Tactical. I'll be getting the XD.40 S&W Tactical or .45 ACP (depending on the ammo situation) once things settle down from getting my new 870 Marine Magnum.
---
Shotgunner
Posts: 20
Joined: Sat Oct 26, 2013 4:58 am
My first HD guns were Handguns. I'm a big fan of the .45 1911s and otherwise.

For EDC I like S&W Airweight revolvers, and 9mm compacts Kahr & Glock. All depends on how fast and accurate your shots are and how quickly you need to reload.

There's no substitute for regular, stress-innoculated training.

For HD or EDC I strongly advise Crimson Trace Laser Grips because... they have the rare ability to "De-Escalate" a potentially deadly encounter.

BUT Expensive Accessories can't compensate for Basic Shooting Fundamentals.
"Multiple hits
do
count significantly."
—Dr. Dennis Tobin M.D.
(Handgun Stopping Power by Marshall & Sanow Paladin Press, 1992 pg. 10.)
---
---
Reaper wrote:I picked up this S&W SD40VE on sale this past summer. Compact, but still holds 13 rounds of 40 caliber.
Nice, I carry a SD9VE or a Kahr P9 depending or my mood and/or how I'm dressed for the day.
I would suggest a Apex Tactical trigger and spring kit for your SD, I love mine.
https://apextactical.com/store/product- ... cid19.html
---
These are the pistols I currently own. I'm a big 1911 fan boy, and probably shoot pistols more than I do anything else.
Attachments

I bought my Rock Island 1911 years ago when I turned 21, It was my first handgun and 1911, it's a work horse and still kicking, the last year I replaced all the recoils / hammer springs, and a few years back had it sand blasted/stripped and painted the desert color it is today.
ROCKY.jpg (13.5 KiB) Viewed 5197 times

I just sold my wife's PX4 and upgraded her to a Kimber Solo. Still in the break in time on this gun. I'm hoping in time to like this one more that I do now. It is dead on, but not used to the kick behind it.
SOLO.jpg (141.43 KiB) Viewed 5197 times

My carry gun is a Kimber Aegis Pro, it's a 9mm shoots like a dream. I've have two friends that have shot it and had to buy one of their own. (the 3 inch is one of my friends). These 9mm 1911's are still very light, and I don't feel that I have lost any accuracy from my full size to the 4.1 inch barrel. Plus I get to Carry 9 - 10 rounds depending on which mags I am using it.
AEGIS 3 AND 4.jpg (84.13 KiB) Viewed 5197 times
---
Senior Shotgunner
Posts: 210
Joined: Sat Dec 08, 2012 1:16 am
Location: Upstate, SC
Nice! I want to get a basic Springfield milspec. To target shoot, home defense, and possibly carry. Love the 1911s.
---
My EDC, a Glock 27 .40 S&W and a KelTec P3AT .380 backup.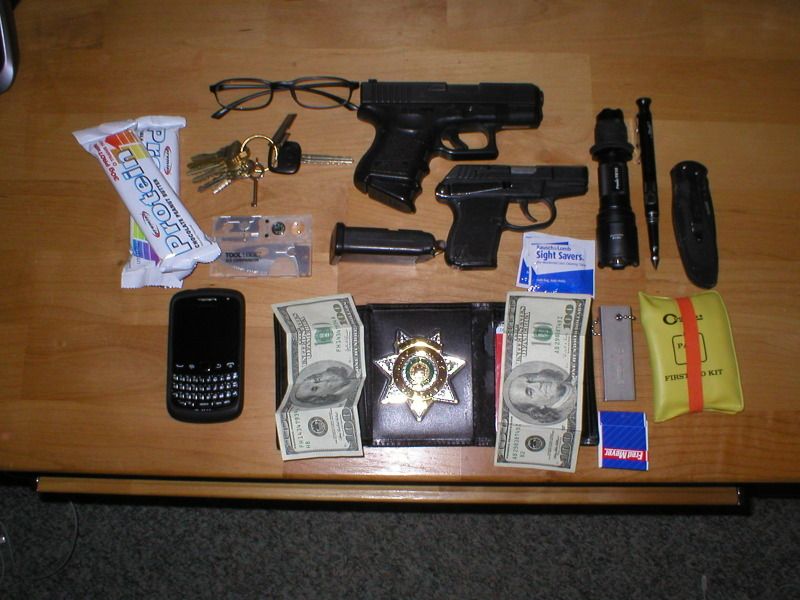 LEO (retired)
Oathkeeper
NRA Life Member
C&R 03
U.S. Navy 1972-76
M14RA Coordinator Western Region.
---
Here is my current collection. Beretta 92FS Inox, Beretta Tomcat, Kimber Solo CDP, Ruger LCP, Sig Sauer P938 Rosewood, S&W 642ct, and lastly S&W Model 66 .357. All have been my every day carry at some point except the 92FS and the Model 66. And the Daddy on top is my Rem 870.
Attachments

Steves family of.jpeg (411.46 KiB) Viewed 5063 times
Last edited by
stevessf
on Wed Jan 08, 2014 6:49 pm, edited 1 time in total.
---
I carry a Glock 27 .40 S&W and a KelTec P3AT .380 backup when off duty. I carry the G27 as a backup and the KelTec as a hideout along with an issue Glock 22 sidearm while on duty. I do the Glocks since that is what I'm issued.
LEO (retired)
Oathkeeper
NRA Life Member
C&R 03
U.S. Navy 1972-76
M14RA Coordinator Western Region.
---
Who is online
Users browsing this forum: No registered users and 1 guest