Senior Shotgunner
Posts: 298
Joined: Thu Nov 29, 2012 9:35 pm
Location: Lost State of Franklin
that isn't a stock, it is a Sig Brace. do a Google search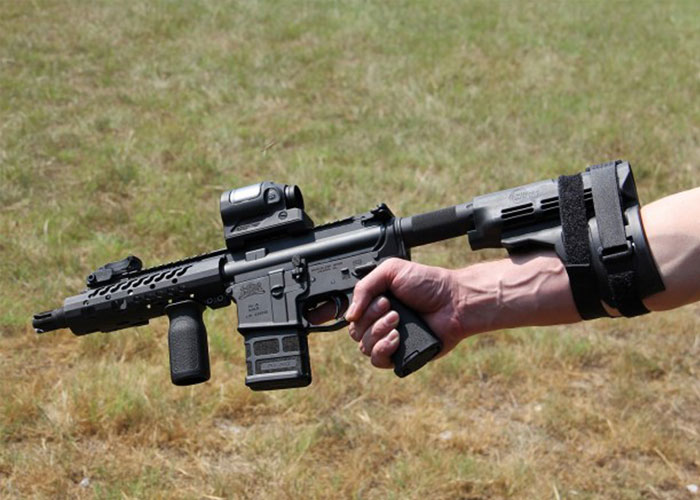 The devil danced as he went down, in the hail of arrows comin' Out on the wild Montana ground, Custer died a-runnin'.
---
New Shotgunner
Posts: 10
Joined: Sat Sep 19, 2015 3:22 pm
Location: USA
Oh ok thanks, def not what I am looking for.
---
I had the same issue.
I'm 6'5" and wife is 5', also wanted to mitigate felt recoil for her.
I bought the Mesa LEO with the Crosshair hydraulic buffer tube and it works amazing!
Shooting target loads, felt recoil is next to nothing, it adjusts perfectly for wifey too.
I fired 50 rounds today, mix of #00 and slugs, could have fired 50 more with zero issue.
This setup works amazing.One thing I will add, is if you went this route with the Magpul stock, go the extra bucks and get the CTR stock instead of the MOE. The Moe will be loose on the buffer, and the CTR will not, that is if that type of thing bothers you.
Attachments

DSC_5597.jpg (107.18 KiB) Viewed 2214 times
870 Express Magpul | Mesa LEO | Scattergun Tech +1 | Scattergun Tech safety| Mesa sidesaddle | Inforce MIL | Bushnell TRS-25 | Magpul MS4 sling
ΜΟΛΩΝ ΛΑΒΕ!
---
With the dffeences in your heights, I certainly see where an adjustable stock would be advantageous. However, have you considered a Youth Stock for the gun with a Supercell recoil pad?
---
Will a supercell fit a lot of aftermarket stocks, such as Hogue or others that simulate the same taper as an OEM monte carlo style stock? Obviously length of pull might change things.
---
Elite Shotgunner
Posts: 3022
Joined: Fri Dec 28, 2012 8:04 am
Location: The Inland Northwest
Contact:
Depends. Some SuperCells have a tenon that actually fits
into
the stock, so the stock has to have very specific interior geometry in order to match. Others are flat where they meet the stock, so as long as the screw pattern matches (or you're willing to do a little work on the stock to make it match), the pad can be installed. Of course, there's no guarantee that the pad & stock will have the same profile, so it might look pretty tacky once it's on.
If SuperCells don't work, there other grind-to-fit & pre-fit pads that might match better.
---
Who is online
Users browsing this forum: No registered users and 1 guest