Home Defense Remington 870 Setup with Upgrades List
I received a lot of questions about shotguns from the Remington 870 Photo Contest. So, I decided to make several posts which describe those Remington 870 setups. Let's start with the winner of the contest.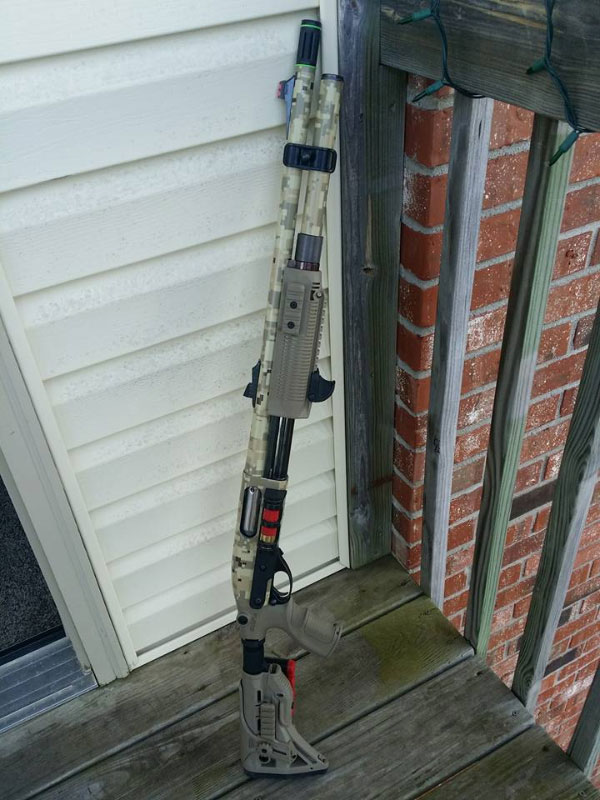 FAB Defense (Mako) Stock
This shotgun has FAB Defense (Mako) Stock and forend. There are different versions of this stock, you can get folding stock or even recoil-reducing stock:
FAB Defense stocks are very popular among shooters. The price depends on the model you choose. Folding stock makes shotgun compact during transportation. You can also try to shoot shotgun with stock folded but it won't be comfortable for your wrist. If you shoot the pistol grip only stock often it can even injure your wrist.
The Length Of Pull is adjustable, so it will be comfortable for shooters with longer or shorter arms. Or LOP can be adjusted when using armor.
Recoil-reducing stock will be useful for beginners which cannot handle heavy recoil yet.
Another feature which can be found on some of the FAB Defense stocks is storage compartments in grip and in butt stock.
Made of aircraft-grade aluminum, steel, and MIL-SPEC reinforced polymer composite.
FAB Defense (Mako) Forend
Fab Defense foren is available in stock and forend set or separately. It is made of reinforced polymer composite and has several nice features.
There is a full length fixed rail on the bottom. You can attach flashlight or vertical grip to it. There are also two smaller side rails, where you can put additional accessories.
Ribbed texture of the forend provides a non-slip surface.
Pred Defender Shell Holder for Remington 870
Another interesting upgrade on this shotgun is Pred Defender Shell Holder for Remington 870:
It enables you to load first round into a chamber quickly. Pred Defender Shell Holder is extremely useful if you store your shotgun unloaded. You can grab a shotgun and quickly load first round into a chamber and you are ready for the fight.
This home defense shotgun also has magazine extension, light gathering sights. And I would recommend installing tactical flashlight.