Don't Forget About New Contest! Win $100 Brownells Gift Certificate!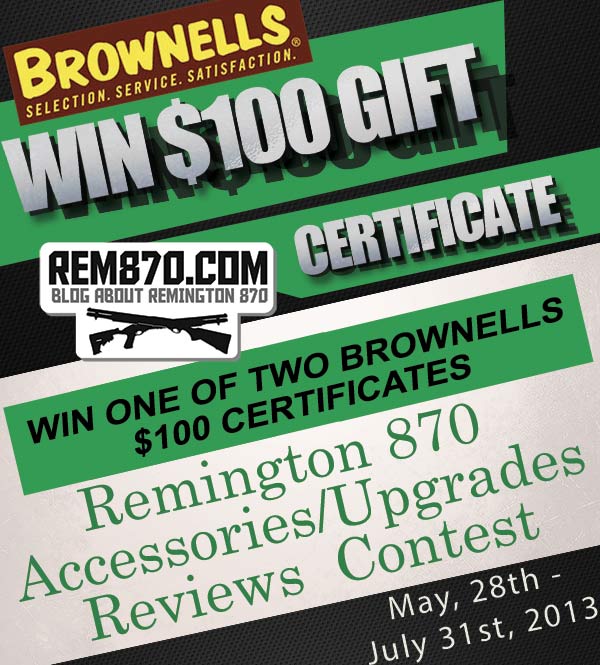 Last contest was fantastic, we've seen a lot of photos and participants. Time for new contest. This contest is sponsored by Rem870.com and Brownells.
Rules are simple, send review of ANY of upgrade or accessory for Remington 870 shotgun. Reviews accepted from 28th of May till 31st of July, 2013, so you have plenty of time to review your favorite Remington 870 upgrade.
Then we will have open voting for 10 days and choose the best reviews, 2 winners will receive $100 gift certificates from Brownells.
Main Prizes
2 Main Prizes: $100 Brownells Gift Certificates

Additional Prizes
7 additional prizes:
Remington Trigger Pins
Remington Follower, Alum, Green, 12 Ga.
Remington Follower, Alum, Red, 12 Ga.
Remington Follower, SS, Natural, 12 Ga.
Carrier Pivot Slave Pin
4-in-1, 870/1100 Screwdriver Combo
Pin Pusher
Official Rules:
1. Entrants agree that reviews can be used by Rem870.com.
2. Reviews must be new and published only on Rem870.com
3. Reviews must contain at least one photo of the accessory/upgrade.
4. Only Remington 870 accessories/upgrades reviews are accepted.
5. Number of the reviews from one person is not limited.
4. Entrants certify that they own reviews.
5. Winners will be chosen by readers of the blog. Voting will be open and will be held for 10 days, so all entrants will be in same conditions and will have same amount of time to get votes.
6. It is allowed to ask your friends to vote for you. The more publicity we have the more prizes we'll have next time.
7. Reviews accepted in English only.
Send in your reviews to info@rem870.com